We are in the peak of summer in South Korea! And while some of you are soaking up the rays to get a good tan and enjoying the various festivals, some of you might be suffering from the sweltering heat and wishing it is cooler. But Hey, summer time is where all the blockbuster movies are released, music albums of K-Pop groups released, music festivals held around the country for everyone's enjoyment. Why not take this time to venture and see some of them? There is something for everyone! 🙂
Busan Sea Festival
The 21st Busan Sea Festival kicks off from 1st – 7th August, it is held on five beaches throughout the city: Haeundae, Gwangalli, Songdo, Dadaepo and Songjeong.
Participate in many of the fun activities like the massive water gun fight, night pool party and fireworks. There are EDM concerts, Jazz concerts, Salsa dancing, acoustic or classical music concerts and even military band performances for everyone. There is even night illumination show on Gwangandaegyo Bridge.
Incheon Pentaport Rock Festival
Held only from August 11- 13th, the Incheon Pentaport Rock Festival is a must-visit for rock fans. This annual festival invites famous rock artists from Korea and overseas to perform on the large outdoor stage. Rock fans can revel in the many off-stage events like flash mobs taking place. The festival is especially popular among people in their 20's and 30's. Artists coming this year include Bastille from England and 5 Seconds of Summer from Australia.
Some of the Line ups are as follows :
11 August : HyeongDon & Dae Jun X Rose Motel, Her Name in Blood, SKA Wakers, Dua Lipa, Honeyst, April 2nd, etc
12 August : Bastille, Kiha & the Faces, Decadent, Swanky Dank, Lowdown 30, Dnce, Pia, You Me at six, etc
13 August : 5 seconds of Summer, Zion T, The Solutions, Crystal Lake.
Gangjin Celadon Festival
Every year, the county government of Gangjin holds the Gangjin Celadon Festival, where visitors can mingle with local modern celadon artists and even take home some celadon pottery of their own. This year, the festival will be held from July 29th to August 4th. Gangjin has been the largest production of South Korea's celadon from the 8th to the 14th century.
The Goryeo Celadon Museum, which is open year-round is a must visit for all visitors. The museum features an impressive collection of celadon pottery, and also has exhibits on the Gangjin kiln sites. These kilns, some of which are still functional, were used to make celadon in ancient times.
Visitors can gain a deeper insight and appreciation of Korea's celadon impact on the global art community.
Busan International Comedy Festival
The fifth Busan International Comedy Festival will bring lots of  peals of laughter starting from August 25 at the Busan Cinema Center, Sohyang Theatre in Centum City as well as other locations throughout the city including Busan Citizens Park and Gwangalli Beach.
Several well-known domestic and foreign comedians will take the stage for the event including Park Mi-seon's 30th anniversary dinner show and the "Two Mom Show."
An open-air concert will also be held. And for the first time, the BICF invites the public to actively participate and decide on the event's theme songs. Lots of Korean comedians have taken part in the recording.
Street performances will be held on Gwangalli's main street during the car-free times coordinated by Suyeong-gu for cultural events August 26 to 27 and September 1st to 2nd.
Seoul Soul Festival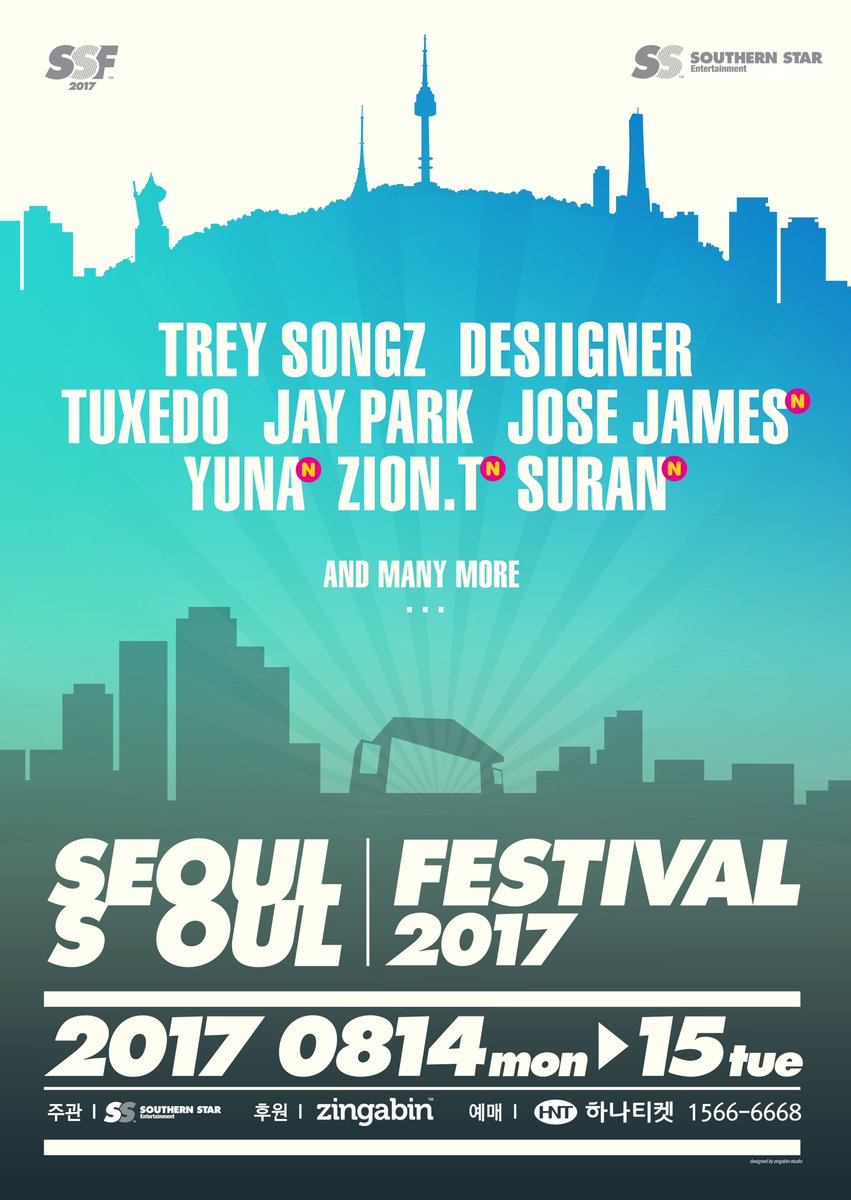 For R&B, Hip Hop and Soul lovers! This one is for you guys! Seoul Soul Festival is one of the largest ever held in Asia yearly and this year it is no exception.
the Seoul Soul Festival have hit the nation's capital with headliners Maxwell, Tyga, Ty Dolla $ign, and BJ the Chicago Kid last year.
Fans can be sure to look forward to a solid weekend of your favourite genres on Auguest 14th and 15th. Make sure you check in on their website for updates on venue, lineup, and ticket prices.


Tongyeong Great Battle of Hansan Festival
The Great Battle of Hansan Festival is held annually in Tongyeong-si, Gyeongsangnam-do, South Korea, for four days in August 11th to 15th. This eventful celebration commemorates the stunning victory and patriotism of Admiral Yi Sun-sin over the Japanese navy at theBattle of Hansan during the Imjin War (1592-1598).
A re-enactment of the battle in the waters off Tongyeong is the undisputed highlight of the event, but dozens of associated activities are also held concurrently in this commemoration of Korea's most revered national hero. There are various performances of music, dance, and drama; art exhibitions; and short talks of the Hero. There will be featured exhibitions related to Yi Sun-sin, as well as ocean sports and hands-on experiences such as making models of geobukseon (iron-clad turtle ship built by Admiral Yi during the Imjin War) and arrows.
Muju FireFly Festival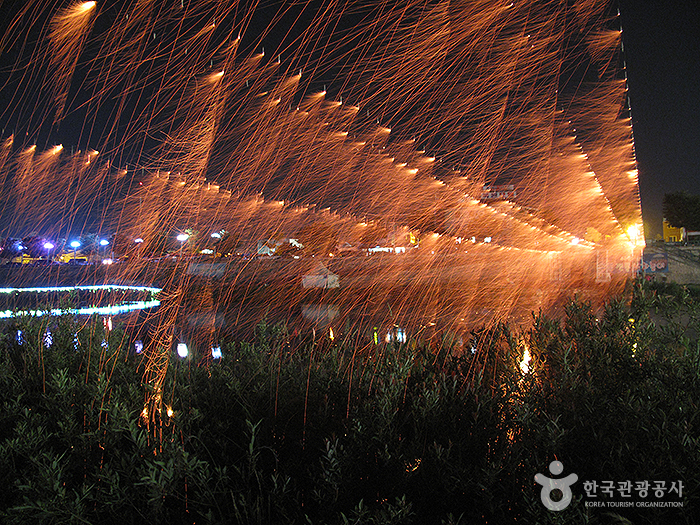 Itching to see a night lit up with luminous fireflies in the surroundings? Look no further! Head down to the 20th Muju Firefly taking place from August 26th to 3rd September this year. Taking place within the charming traditional craft culture zone of Muju, not only do you get to see fireflies light up right before your very eyes, get ready for a whole lot of fun with the whole plethora of activities that this famous festival has in store! Take this opportunity to enjoy the fresh air and lush countryside too! 🙂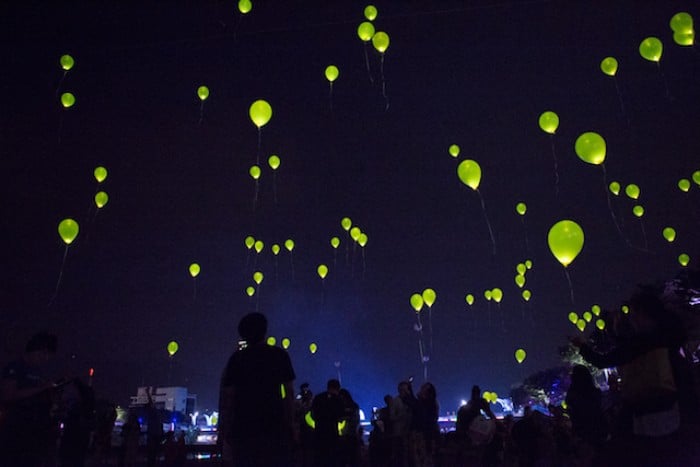 Visitors can enjoy Chinese and Korean dance troupes, a talent show, martial arts and taekwondo performances, weaving tutorials, a b-boy dance-off, river rafting, a fashion show and a variety of music and street theatre. If that doesn't cut it, just head down to Namdaecheon stream and learn to catch trout with your bare hands. The festival is also full of stalls, booths and event spaces devoted to all things firefly – which apparently includes ginseng, traditional drums, pottery, artwork, Korean teas, local wines and a host of regional products.
As these delicate insects are said to only thrive in clean, healthy environments, the people of Muju (located in northern Jeolla Province) have worked hard to maintain a clean and healthy community.
For those of you who are not keen to venture out to see the fireflies fret not! There is always Bandiland, a well-curated museum with an indoor firefly exhibit where a handful of the fireflies buzz around in a darkened room. Bandiland, which translates simply to "firefly land," is also home to one of the world's most impressive insect collections. So entomology fans, this is the very place for you.
Located between Daejeon and Jeonju, Muju is an easy destination from a number of Korea's major cities. Although it seems like a small town, there are a number of affordable accommodations. Do note that there are no 24 hour jjimjilbangs (traditional Korean spas), so be sure to make solid sleeping arrangements before turning up.
If you have a few days to spare, stick around after the festival and enjoy a few of the local attractions. The area is rife with beautiful hiking trails, Buddhist temples and cultural heritage sites. You might even see a few rouge fireflies relaxing after their hectic work week. 🙂
Hangang Summer Festivals
The 2017 Hangang Summer Festivals, one of the leading events of summer in Seoul, is back for another fun filled season! This year the event comprises of 80 programs spead out for everyone of all ages to enjoy at 11 Hangang parks. Starting with the opening ceremony on July 21st at Banpo Hangang Park, the events will continue for a month till August 20th.
This year, 80 programs will be offered under the three themes of 'Rediscovering Hangang.' The three themes include ① Cool Hangang (playing in the water, water sports), ② Inspiring Hangang (Performances, viewing, passion) and ③ Together Hangang (Nature, ecosystem, rest). Popular activities include the Cardboard Boat Race, Hangang Bike Tour, Water Fight Festival, Under the Bridge Film Festival, Fire festival Korea, Under the Bridge Used book Festival, Hangang Night Walk 42k, Hangang Food Truck 100, Hangang Summer Campground, Water Sports Center, 2018 Pyeongchang Village, Heart Beat Festival, Sounce Parade and Water War, Global Food Festival, Hangang Rickshaw Tour and the Hangang Jazz Festival.
Film Festival Under the Bridge
This summer, four of the bridges—Cheonho Bridge, Cheongdam Bridge, Seongsan Bridge and Wonhyo Bridge will serve as outdoor movie theaters every Saturday at 8pm. The diverse line-up offers something for everybody, from family-friendly classics and animations to Korean and international movies.
calendar

(Sat)

subject
Place
Cheonho Bridge
Cheongdam Bridge
Wonhyo Bridge
Seongsan Bridge
1
7.22
Star
(space)
Planet Escape :
The Beginning of Evolution
Planet Escape :
Prelude to Counterattack
Planet of the Apes :
the beginning of the evolutionary
prelude to fight back
* 2 piece continuous screenings
Planet Escape :
Prelude to Counterattack
Featured 2011
Fiction 2014
Featured 2011/2014
Fiction 2014
2
7.29
mountain
Moffatt and
Napa Roman
Eclipse
The Mountain of Destiny :
Nangaparbat
Precious moments
Lonely victory
Bigman
Casca
Wingman
Documentary
UK 2015
Spain 2015
Canada 2015
Feature film
Germany 2010
Documentary
US 2015
US 2014
Documentary
Spain 2015
Spain 2015
Norway 2015
3
8. 5
Music and
animation
your name is
[ Special Preview ]
Dragon Spell :
Secret of Magic Flower
Lara Land
[Pre-performance: Dance Dance Hall]
Again , cherry blossoms
Animation 2017
Animation 2017
* More information
Featured 2016
Documentary 2017
4
8.12
Invigorating
(pleasure)
Rage of Rage :
More Extreme
[ Special Preview ]
Wait a minute. I'll leave the company behind.
Patriot Day
Sheriff
Feature film 2017
Feature film 2017
*  More information
Feature film 2017
Feature film 2017
5
8.19
animal
Miepet Ozzie
My Red Whale
Mr. Cat
The day I first gave my dog a name
Animation 2017
Animation 2017
Featured 2016
Documentary drama 2017