Everyone loves visiting cosmopolitan cities and their huge skyscraper skylines. But sometimes the rat race, hustle and bustle of every life can get the better of us and we need a little quieting down to refocus. If you ever happen to feel the need to reconnect with your inner peace in the city of Seoul, look no further and head right down to Bongeunsa Temple, near the COEX Mall.
This Buddhist temple has been rooted at Gangnam for centuries. Although now dwarfed by Coex Mall and a spread of modernistic high-rises, Bongeunsa temple remains a sanctuary of serenity and a reminder that Korea still has a deep history with Buddhism.
In 1939, and again during the Korean War (1950-1953), most of the temple buildings were heavily damaged or destroyed by fire. Between 1941 and 1982, repairs and renovations have been done to try to restore it to its past glory.
The highlight of the temple though is a 28 meter (91 foot) stone statue of Maitreya, the Future Buddha. This statue is one of the tallest stone statues in South Korea.  Currently, the temple is only second in the Jogye order to Jogyesa Temple near downtown Seoul.
The oldest remaining building is a library that was constructed in 1856. The library contains Flower Garland Sutra woodblock carvings and 3,479 Buddhist scriptures including the works of Kim Jeong-hee.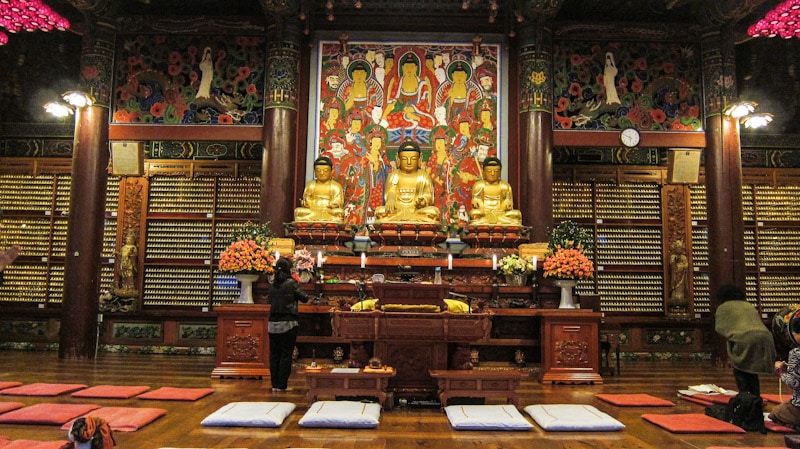 Twice a day, at 4:10 and 18:40, a percussion ceremony using four instruments is performed by the monks of the temple. This ceremony is meant to save and awaken the four beings on the ground using the drum, beings underwater using the wooden fish, beings in the sky using the cloud drum, and beings under the ground using the Chinese gong.
Interesting Fact: Bongeunsa Temple provides a temple stay program that gives visitors an opportunity to experience everyday life in the temple, which includes traditional Korean Buddhist culture and practices such as the daily dawn service, Korean Zen meditation, Dado (a tea drinking ceremony), and Balwoogongyang (a Buddhist meal with traditional bowls).
Directions :
Option 1
Take Subway Line 2 to Samseong Station (Exit 6).
Option 2
Take Subway Line 7 to Cheongdam Station (Exit 2).