South Korea is truly a coffee crazed nation and I am sure for those of you who have been to Seoul will fully agree that every corner of almost every street, lies either a small cafe, a cafe franchise or a convenience store selling essentials and of course, coffee! Taking a closer look beneath the surface, it is the unique cafe culture – not your average coffee house Americanos or Lattes, that draws and entices those who want to experience good coffee and a unique ambiance.
Hello Kitty Cafe ( Hongdae )
It's pretty in pink everywhere in this cafe located in the Hongdae district!  This two-story cafe dedicated to all things Hello Kitty and you will be surprised just how many fans this Japanese San X fictional cat with a red ribbon and no mouth has! :))
On the menu, there are savoury food, sweet endings and of course coffee and other beverages for everyone. Inside the Hello Kitty cafe, you'll find different areas where you can pose with Hello Kitty dolls. There is also have a gift shop where you can pick up plush toys, purses, mugs, and all sorts of memorabilia adorned Hello Kitty's face on it. Fans of Hello Kitty will be delighted to know that they can visit the Myeongdong branch, Sinchon branch and for those of you visiting Jeju, there is a Hello Kitty island awaiting you!
Directions :
Go to Hongik University Station (홍대입구역) Line No. 2, Jungang Line and Airport Line and then come out the station through gate No. 9.
Line Friends Store and Cafe
This store is virtually and literally oozing with cuteness the moment you step in. You can hear all the "oooh so cute" and "ahh, I want this" every few steps! So be prepared for cuteness overload! The Line Friends flagship store at Garosu-gil occupies 3 stories of a building, and is considered the largest amongst all the Line Friends stores around the world!
The characters of Brown, Cony, Sally, Leonard, Moon, Choco are not just the characters of the communication app anymore. They have grown to be loved by so many fans around the world. While the first floor features mainly toys and accessories, the second floor features FRIENDS collaborations, with brands such as Be@rbrick, Swarovski, and Lamy Brown pens along with wearable items such as t-shirts, caps, and sweatpants.
Be sure to take photos with the 3.2m Brown at the entrance of the store. The cafe is situated at the basement level and it houses a character themed café with a 20-piece menu featuring Brown & Sally macarons, Brown lattes, and Cony cookies, many exclusive to only this Garosu-gil store.
You can also find Line Stores in Itaewon and Myeongdong! 🙂
Directions to Line Store at Garuso-Gil :
Alight at Sinsa Station (Line 3) and get out at Exit 8. Walk straight and after you passed a Tous Les Jour (bakery) outlet, turn left. The LINE Friends store is located in the middle section of the street.
Line Store at Myeongdong :
 9 Myeongdong 8na-gil, Myeongdong 2(i)-ga, Jung-gu, Seoul, South Korea
Line Store at Itaewon :
126 Hangangno-dong, Yongsan-gu
Seoul, South Korea.
Alight at Itaewon Station and get out at Exit 3.
Meerkat Cafe Hongdae
With the hustle and bustle brimming about just every corner of Hongdae, this Meerkat Cafe is the perfect addition to add to its quirkiness. Just a few blocks from Hongdae Park, Meerkat Cafe is home to twelve cute, curious and meek meerkats, one South African genet, one raccoon, one kitten and one Arctic fox.
All visitors are required to remove their shoes upon entering the cafe and if you are coming over with your family, do note that children below the age of 15 are not allowed to enter the cafe. Entrance for the cafe ranges between 8,000-10,000 won. The price includes a drink. The entire cafe boasts a relaxing ambiance for the playful friends and visitors, walls are painted in soothing and calm colours while toys and little houses can be seen throughout the cafe to make the little animals feel at home.
There are two meerkat play pens open to visitors to play with them for ten minutes. Proper sanitization of every visitor is required before entering the pen. Once inside the pen, you can pat them, play with them and be amazed by how actually fast these little creatures are! Sometimes the cafe staff will even pass you toys to play with them! Get ready to fall in love with them! 🙂
Directions :
Address
마포구 와우산로21길 19-12 (3층)
19-12 Wausan-ro 21-gil, Mapo-gu, Seoul (3rd floor)
Open hours: Mon. & Sat.~Sun.12:3-22:00 ; Tue.~Fri.12:00-22:00
How to get there: Subway line 2, Hongik University station, exit 9 (11mins of walking or subway line 6, Sangsu station, exit 1 (approximately 8mins of walking)
Coffeegraphy
Nestled nicely in the picturesque back streets of Itaewon alongside many other hidden must-see shops, cafes and restaurants, Coffeegraphy lives true to its name as an intersection between coffee and photography! Avid photographers, this is the very place for you!  Half cafe and half photo studio, Coffeegraphy's walls are all plastered with past photo shoots.
You can come in for a caffeine fix and get your photos taken with friends or family or with your bff or significant other! 🙂 Coffeegraphy also offers photos to be printed in many different styles and sizes, some of which include, but are not limited to, Polaroid and visa pictures. There are all kinds of goofy and fun props and costumes to try out!
Whether you're craving a caffeinated fix or wanting to do a fun or silly photoshop with your special someone or family and friends, Coffeegraphy is the perfect place to go. Walk ins are welcome, no reservation necessary!
Directions: 63-1 Itaewon-dong, Yongsan-gu, Seoul, South Korea
Thanks Nature Cafe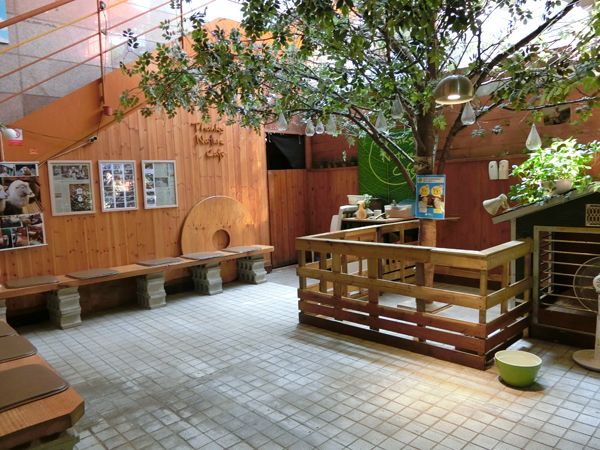 Meh~ Meh~  🙂  This cafe has been drawing consitent Ooohhs and Aahhs from visitors everywhere and I can see why.  It got really popular after it's been aired on TV for MBC's "We Got Married" where Super Junior Leeteuk and Korean actress Kang Sora visited it together
Located right in the middle of Hongdae, Thanks Nature Cafe has two cute sheep – Sam and Anna roaming around their large pen outside the cafe where customers can sit and play with them. The cafe sports a cosy interior design which blends in beautifully with the nature theme of this cafe.. With the free WiFi and charging points as well, this place makes for a great locale for study sessions, a nice chill-out day with friends or an immersive session novel reading on rainy days.  The cafe does not serve any main food, only waffles, and coffee with pretty latte art.
Thanks Nature Cafe is located at 486 Seogyo-dong, Mapo-gu, Seoul. To get there take a train to Hongdae Station (line 2) and come out of exit 9. Walk straight then take a left at the main road. Keep walking straight towards the university, you will see the stairs to get to Thanks Nature Cafe, at the end of the arcade of shops. For more information you can call them on 02-335-7470, or check out their facebook page.
Poop Cafe
For those of you who actually give a crap to reading this blog entry ( pun intended!) :), visiting the Poop cafe or Ddong cafe is a must! This quirky cafe is in a class of its own by matering the art of turning something taboo into a load of artistic cuteness!
The cafe is located at the top floor of Ssamziegil, a colorful arts and crafts shopping center located on the famous Insadong street. In this 4 story building, surrounding an open courtyard, you'll find more than 70 stores selling crafts, fashion and accessories, as well as galleries and workshops. You can easily spend a few hours browsing there.
The food and drinks served in here are placed inside cute toilet-shaped mugs and plates, and some of the food even resembles poop in its iconic cute form. The dishes are aesthetic and eye pleasing as well! So if you are in Seoul,  Ddong cafe is a must visit. Not only is it playful and fun, but the quality of its beverages and sweets is surprisingly good, not to mention a great story to tell back home to your friends!
Directions :
4FL. Ssamzie-gil Building, 38 Gwanhung-dong, Jongro-gu, Seoul, Insadong